Used Car Dealer Downey, CA
Convenient Location
Because of its convenient location near Los Angeles, Downey is home to several large and well-known businesses, including Kaiser Permanente, Coca-Cola Refreshments, and Xpedex. Downey is also home to the oldest surviving McDonald's, which is located at 10207 Lakewood Boulevard. It even has the two original Golden Arches as well as a 60-foot Speedee sign that you'll love.
Used Car Dealer near Downey
Cerritos INFINITI is your local used car dealer near Downey. Offering incredible customer service, fair pricing, and a huge inventory of used and certified pre-owned INFINITI vehicles for you to choose from, you'll find everything you need when you shop with us.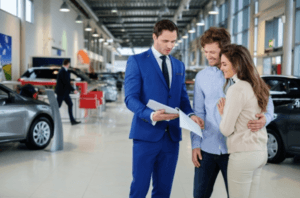 When you start your car-buying journey with Cerritos INFINITI, we'll work with you to find a vehicle that meets your wants, needs, and budget. You can even start online and check out our entire inventory, which is easily navigable. Then stop in to our showroom near Downey and see the vehicle of your dreams in person. Take it for a test drive and you'll be able to decide whether it's the one for you. Once you've chosen the perfect vehicle, we'll work with our team of lenders to get you financing terms that fit your budget. We'll go over the numbers and make sure that you feel comfortable before making any final decisions.
Maintaining your investment is easy with the service department at your local used car dealer near Downey. The service department at Cerritos INFINITI is full of highly trained service staff who are happy to help you take care of your vehicle for years to come. From oil changes and transmission repairs to brake repairs and tire changes, we've got you covered.
The showroom at Cerritos INFINITI is open Monday through Saturday from 9 am until 9 pm and Sunday from 10 am until 8 pm. Give us a call at (888) 262-3167 today to schedule a test drive. Our friendly and helpful sales team is waiting to take your call. Or stop by our showroom at 10901 East 183rd St in Cerritos, CA, today. We'll see you soon!
Directions to Cerritos INFINITI
Cerritos INFINITI is a quick 10- to 15-minute drive from Downey, CA, depending on traffic. Head southeast on Firestone Boulevard toward Downey Avenue and follow for 1.9 miles, then turn right to merge onto I-605 South and follow for another 4.4 miles.
Use the right lane to take exit 5B for South Street and follow for 0.2 miles then turn right onto South Street. You'll see Cerritos INFINITI on the right at 10901 East 183rd St in Cerritos, CA.