Sounds That Indicate Your INFINITI Needs Maintenance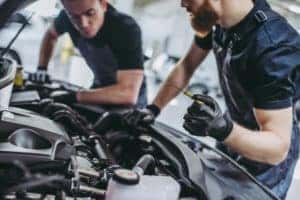 An INFINITI's serene cabin experience can feature a number of memorable sounds. There's the vroom vroom of a powerful engine, the gentle clicking of an activated turn signal, or tunes played in stellar quality over the multi-speaker stereo. But, there's also the chance for noises to arise that the driver doesn't prompt, which could spell out trouble.
Knowing ahead of time about these warning sounds that indicate your INFINITI needs maintenance can help you avoid a larger issue and save you money in the long run. Check them out below!
Squealing Brakes
If your INFINITI is making an irritating screech or squeal as you come to a stop, it's time to get your brake pads replaced.
Why the squealing? At the core of every brake pad, there's a small piece of metal, engineered to specifically let you know when your brake pads are worn down, through an unmistakable squeal when the indicator meets the rotor.
A Loud Bang
If your INFINITI's arrival at a destination in Long Beach, Torrance, or Fullerton is synonymous with a thunderous bang or clunk when you turn your car off, its engine is under major distress, and prompt maintenance attention is required.
Engine chamber commotion: When your INFINITI's engine environment is thrown off by a damaged spark plug, valve issue, or an imbalance to its fuel-to-air ratio, it'll get your attention in the form of an engine backfire.
Ticking from the Engine
Hearing a relentless ticking noise from under the hood is a sign that your INFINITI's engine is very low on oil.
Why's my car ticking? As you drive your car more and more, the oil level naturally diminishes. That's why it's so important to make sure that you're regularly checking and topping off oil, and bringing your vehicle in for routine oil changes. A ticking engine could be indicative of an oil leak. Check for leaks under your vehicle, and get in touch with a certified service provider ASAP.
Screeching from Under the Hood
A constant screech or squeal coming from your vehicle's inner workings is a sure sign of belt troubles.
Name that noise: Over time, your vehicle's drive belt can become slippery, damaged, or fully worn out, and this screechy signal points to a drive belt that's at the end of its rope. Be sure to get this issue taken care of promptly since the drive belt plays an integral role in linking power to your INFINITI's various systems.
Silence These Car Sounds with a Service Appointment
If you witness any of these sounds that indicate your car needs maintenance as you travel around Long Beach, Torrance, and Fullerton, making a service appointment—and fast—is key.
Whatever unfamiliar noise your vehicle is making, local INFINITI drivers can count on the Norm Reeves Cerritos INFINITI service center for their top-notch expertise. Our certified technicians speak your car's language and know exactly what to do to get the issue taken care of properly and promptly so you can get back on the road. Schedule an appointment with us today.