2021 INFINITI QX50 VS ACURA RDX

---
When you're in the market for a new midsize SUV, you have a lot of options to consider in deciding what one will suit you for your trips around the Mission Viejo, Orange County, and Cerritos, CA, areas. The 2021 INFINITI QX50 and the 2021 Acura RDX are similar vehicles in this respect; they're both among the most stylish and reliable midsize SUVs.
To help you decide between these two vehicles, our team at Norm Reeves Cerritos INFINITI is going to take a closer look at both.
In this vehicle comparison, we'll be focusing on the important aspects, like vehicle power and performance, interior style and comfort, safety and assistive tech, and entertainment and technology. This article will help you see the differences between these two vehicles, allowing you to determine if either is the right fit for you.
---
2021 INFINITI QX50 VS 2021 ACURA RDX: POWER & PERFORMANCE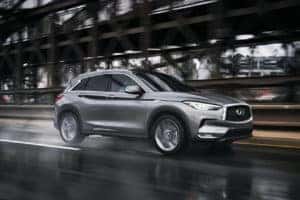 The new INFINITI QX50 delivers its power with a 2.0-liter VC-Turbo 4-cylinder engine that is able to reach 268 horsepower and 280 lb-ft of torque. Similarly, the Acura RDX features a 2.0-liter VTEC® turbo 4-cylinder engine that offers a similar output for muscle and control.
Either of these SUVs is a great choice when it comes to fuel efficiency. The 2021 INFINITI QX50 works hard to keep you away from the gas pumps, receiving an EPA-estimated 23 city and 29 highway MPG.1 The 2021 Acura RDX similarly received impressive EPA estimates at 22 city and 28 highway MPG.
To further optimize performance, the QX50's continuously variable transmission comes with the INFINITI Drive Mode Selector. This system allows you to choose among Standard, Sport, Eco, and Personal modes for increased efficiency.
2021 INFINITI QX50 VS 2021 ACURA RDX: STYLE
Designed with style to match power and performance, the QX50 and RDX make strong statements on the SoCal roadways. Both vehicles are designed with elongated stances to embolden their presence on the road.
The RDX comes in at 186.7 inches long. Meanwhile, the INFINITI QX50 SUV stands at 184.7 inches long, making it easier to find street parking in the city.
The QX50 weighs in slightly heavier at 3,838 pounds compared to the 3,783-pound RDX. This equips the INFINITI luxury SUV with a heavier stance for a smoother ride and keeps you grounded to the road at all times.
Whether you choose the QX50 or RDX, you're sure to turn heads.
2021 INFINITI QX50 INTERIOR VS 2021 ACURA RDX: INTERIOR
Both the 2021 INFINITI QX50 and Acura RDX are capable of carrying five passengers. Inside, the INFINITI QX50 comes standard with leatherette seating. The Acura RDX, on the other hand, features leatherette-trimmed seating.
Additionally, both vehicles have leather-wrapped steering wheels for added control and comfort. However, the QX50 does offer added luxury features that boost control behind the wheel, such as a leather-wrapped shifting knob as well as steering-wheel-mounted paddle shifters.
The INFINITI QX50's impressive interior does not stop at its seating appointments and leather finishes but also extends to its cargo space. The QX50 offers impressive space with 31.4 cubic feet of cargo volume and 104.4 cubic feet of passenger volume. The RDX was designed with slightly less yet still impressive 31.14 cubic feet of cargo volume and 104 cubic feet of passenger volume.
2021 INFINITI QX50 VS 2021 ACURA RDX: ENTERTAINMENT & TECHNOLOGY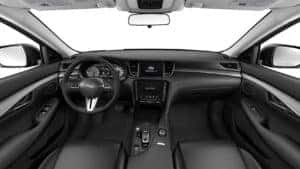 The INFINITI QX50 and Acura RDX allow you to stay in contact at all times through their respective Bluetooth® systems. This feature allows you to make hands-free phone calls from the road. For your entertainment, each vehicle comes standard with a CD player and SiriusXM® Radio.
No one ever wants to feel disconnected. For seamless integration and constant connection, both SUVs come standard with Apple CarPlay® and Android Auto™ capabilities. The INFINITI QX50 features the INFINITI InTouch™ dual display with two screens that are seven inches and eight inches, respectively.
The Acura RDX, on the other hand, only features one display screen in its cabin. Additionally, the QX50 offer a Hands-free Text Messaging Assistant to further improve connectivity.
Both the RDX and QX50 have premium audio systems. Whether you're listening to your favorite podcast or blasting your favorite jam with the windows down on the Pacific Coast Highway, you'll be met with premium sound quality. For added quality, INFINITI teamed with Bose® to create an added option where you can equip the QX50 with Bose® Performance Series Audio System featuring 16 speakers and a subwoofer.
2021 INFINITI QX50 VS 2021 ACURA RDX: SAFETY & ASSISTIVE TECH
Whether you choose the QX50 from INFINITI or the RDX from Acura, you'll want to feel safe within the cabin. Both manufacturers ensured that would be the case with their robust systems of active and passive safety tech.
Both SUVs have advanced airbag systems, 4-wheel anti-lock braking systems, Brake Assist, LATCH Systems, and more.
Examining driver-assistive technology also reveals impressive advancements to make your driving experience as easy and effortless as possible. Assistive tech consistent across both the RDX and QX50 include Lane Departure Warning, Predictive Forward Collision Warning, and more. However, the QX50 has Rear Cross Traffic Alert, which does not come standard on the RDX.
The QX50 also comes with an option to add ProPILOT Assist in some of its trims. This technology combines Steering Assist and Advanced Intelligent Cruise Control in order to keep your vehicle at a safe speed and distance from other vehicles.
---
2021 INFINITI QX50 VS 2021 ACURA RDX COMPARISON VERDICT
In this review, you've learned a lot about the INFINITI QX50 and Acura RDX and their respective differences. We believe that the QX50's combination of style, power, and technology makes it the better option for drivers.
Interested in the new INFINITI QX50? Learn more about the luxury SUV by contacting a member of our team at Norm Reeves Cerritos INFINITI. We're more than happy to help drivers from the Mission Viejo, Orange County, and Cerritos, California, areas find their next car.
We hope to assist you soon!
---
1 2021 EPA Fuel Economy Estimates. Actual mileage may vary with driving conditions – use for comparison only.