INFINITI Predictive Forward Collision Warning

INFINITI is constantly innovating. Whether it's engineering a way to create more fuel-efficient performance or adding a certain tech system to provide you with more convenience, INFINITI is always thinking of ways to enhance your commute around Mission Viejo, Orange County, and Cerritos, California.
This also includes the driver-assistive technologies found in INFINITI models that help make your ride safer and provide you with more confidence while driving. One particular advanced safety system is INFINITI Predictive Forward Collision Warning. What exactly is this feature and what does it do? Our Norm Reeves Cerritos INFINITI team explains below!
Help from INFINITI Driver-Assistive Features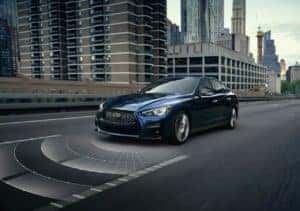 While accidents can happen, INFINITI aims to help drivers limit the risk of potential collisions. This proactive approach is what led INFINITI to develop smart assistive features that can help keep you alert and aware while driving.
This includes Predictive Forward Collision Warning. It's easier than ever to become distracted while driving. Whether your phone starts buzzing or you're trying to adjust the navigation system, there are moments where we all take our eyes off the road. This is where Predictive Forward Collision Warning can help by constantly scanning what's happening ahead and alerting you of any sudden changes.
According to the Insurance Institute for Highway Safety, 56 percent of fatal passenger vehicle accidents in 2018 were caused by frontal collisions. This is why pre-collision warning systems like INFINITI Predictive Forward Collision Warning are extremely helpful systems for drivers.
How INFINITI Predictive Forward Collision Warning Works
How exactly does INFINITI Predictive Forward Collision Warning work? This system is able to anticipate what's happening ahead of you on the road. It features sensors that monitor the road ahead of you and can look out for any changes happening two cars ahead.
If someone hits the brakes in front of the car you're following, Predictive Forward Collision Warning will alert you immediately, so you have enough time to react before a collision happens. You'll see this alert pop up on your dashboard, so you can push down on the brakes and avoid a potential collision with the car in front of you.
Other Driver-Assistive Systems Found in INFINITI Cars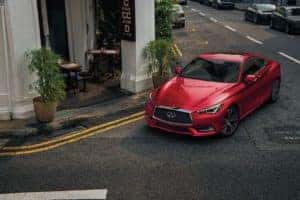 With INFINITI vehicles, there are other systems that come standard and are available within the various models. This includes systems like:
Lane Departure Warning & Prevention
Intelligent Cruise Control
Intelligent Park Assist
Forward Emergency Braking
Backup Collision Intervention
With these systems, your INFINITI will be able to help you confidently and safely back in and out of parking stops, cruise along with the flow of traffic, and stay within the lines of the road.
Enjoy a Safer Ride Inside an INFINITI
Interested in driving around Mission Viejo, Orange County, and Cerritos, CA, in a car with the extra safety and peace of mind that comes with the assistance of Predictive Forward Collision Warning? Stop by our INFINITI dealership today to learn what models have Predictive Forward Collision Warning and learn more about the other technologies INFINITI vehicles have that will help keep you safe!