What's New for the 2023 INFINITI QX80?
The 2023 INFINITI QX80 arrives with a captivatingly redesigned exterior and interior, sure to command attention wherever it goes.
The all-new 2023 INFINITI QX80 presents a comprehensive overhaul both on the outside and within. The exterior boasts a more defined, angular aesthetic, while the interior showcases a contemporary, opulent ambiance.
What Are the 2023 INFINITI QX80 Trims & Features?
The QX80 introduces three enticing trim levels: Sensory, Luxe, and Premium Select. The Luxe trim offers a comfortable and cost-effective option, featuring heated seats, a rear-view camera, and satellite radio.
For those seeking elevated luxury, the Premium Select trim provides an ideal solution. It incorporates ventilated seats, a heated steering wheel, and a sunroof, enhancing the driving experience.
At the pinnacle of luxury stands the Sensory trim, boasting opulent features such as a 360-degree camera, power reclining seats, and heated second-row seating.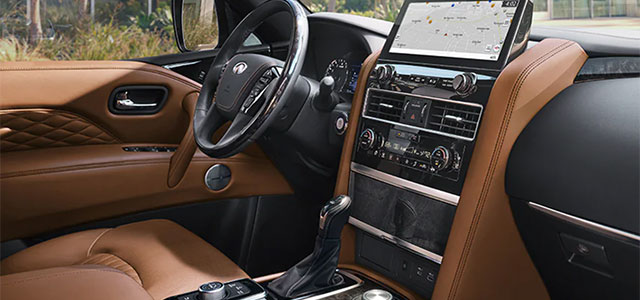 How Much Horsepower Does the 2023 INFINITI QX80 Have?
The QX80 is propelled by a commanding 5.6-liter V-8 engine, delivering a robust 400 horsepower through a seven-speed automatic transmission. Optional rear- or all-wheel drive enhances versatility, ensuring a smooth and potent performance. This powerful engine conquers even challenging terrains, while the plush interior ensures a comfortable journey for passengers.
What Safety Features Does the 2023 INFINITI QX80 Include?
The 2023 INFINITI QX80 prioritizes safety with an array of advanced features, including:
Forward Collision Warning: Monitors the road ahead and alerts you to potential collisions.
Lane Departure Warning: Notifies you if your vehicle drifts out of its lane.
Blind Spot Warning: Utilizes sensors to monitor surroundings and alerts you of vehicles in your blind spot.
Rear Cross Traffic Alert: Warns of approaching traffic while reversing.
Automatic Emergency Braking: Automatically applies brakes to mitigate collision severity.
Visit Us in Cerritos, CA Today
If you're in search of an exceptional SUV, we invite you to explore our INFINITI dealership. Discover the all-new 2023 QX80 firsthand and allow us to address any inquiries you may have.