How do you envision traveling in style? If you've been thinking about this for a while, Norm Reeves Cerritos INFINITI has the answer: The INFINITI Q50, a sedan that turns heads by expertly combining style and luxury.
California is one of the most beautiful states in the country. Your future INFINITI will only add to the breathtaking scenery while cruising through the streets around the Mission Viejo, Orange County, and Cerritos, CA, areas. So, how exactly does the INFINITI Q50 do all of this so flawlessly? We're glad you asked! Schedule a test drive today.
---
Amazing Technology Features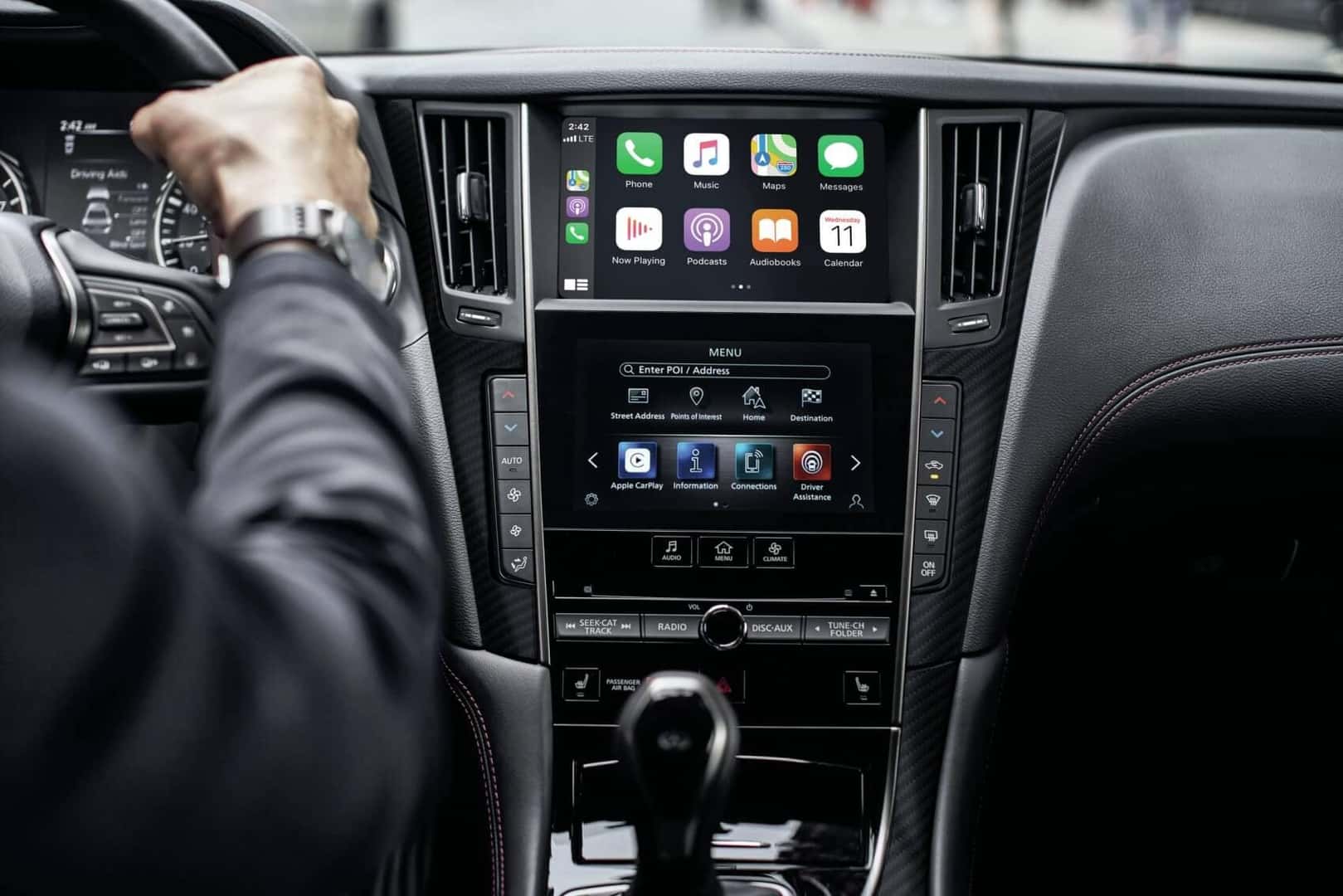 Nowadays, everyone uses their smartphone everywhere, for everything. The automotive industry recognizes this and has made great strides in making it easier—and safer—to use your smartphone while driving. INFINITI takes all of this one step beyond by seamlessly integrating Apple CarPlay® and Android Auto™ into the INFINITI Q50.
Regardless of the type of phone you have, the INFINITI Q50 allows you to send and receive texts, stream music and podcasts, and more—all without taking your eyes off the road—thanks to its InTouch™ dual-display system screens.
If you're a fan of customization, the INFINITI Q50's InTuition™ offers the ability to customize its digital environment to reflect your audio, climate control, feature displays, and IT preferences.
---
A Smart, Powerful Ride
The INFINITI Q50 is more than just a fun drive—it's a powerful one, too. In addition to its athletic build, the 2021 INFINITI Q50 is equipped with a standard 3L twin-turbocharged V-6 engine that gets up to 400 horsepower and 350 lb-ft of torque, which proves how much this car can handle.
High-quality travel requires high-quality fuel economy. The INFINITI Q50 gets an EPA-estimated 20 city MPG and up to 29 highway MPG, so you can get the most out of your ride all the time.*
And no matter what the weather or road conditions are, the INFINITI Q50's available Intelligent All-Wheel Drive will immediately adapt to the elements you're driving in by converting the appropriate amount of power to the wheels for better traction. This way, you won't be sliding around or bumping up and down in the middle of your drive.
Accidents happen, but now many vehicles have the capabilities to help you avoid them altogether. The INFINITI Q50's standard Forward Emergency Braking will monitor vehicles ahead of you and will automatically brake for you if an accident is about to occur, which adds an extra layer of protection for your peace of mind.
---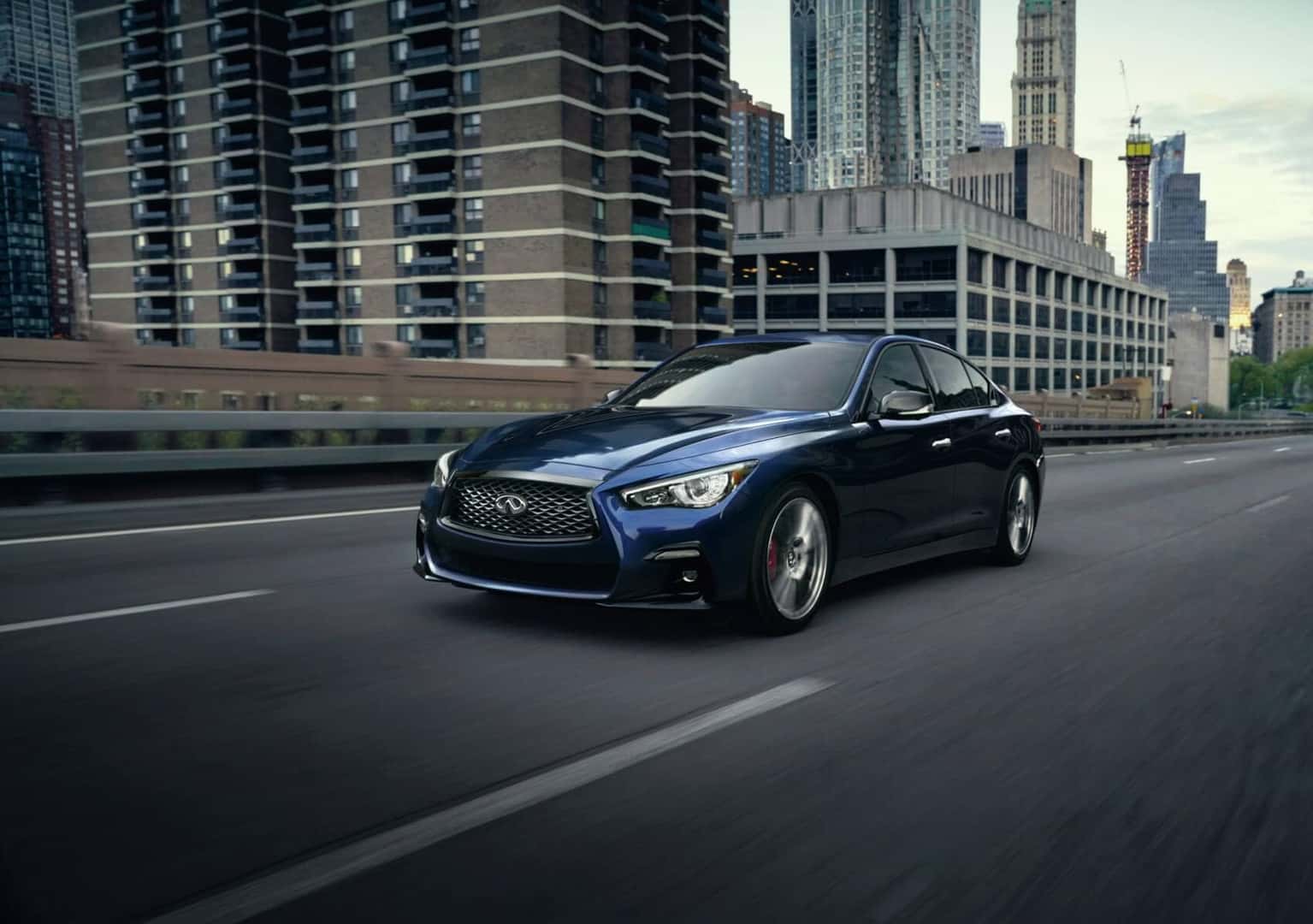 Sleek Design
The INFINITI Q50's design is truly a work of art. Each vehicle features multi-mode jeweled headlamps, amd crescent windows that allow tons of visibility even in your blind spots. The low, sculpted body prowls the streets with sheer power and presence, with a wide enough stance to give you ownership of the road.
A sporty-looking fascia featuring the INFINITI Radiant Grille Emblem adds to its beauty, as its front and rear curves bring out more of its exterior.
---
A Car That Has It All
When you sit behind the wheel of a luxury sedan like the INFINITI Q50 for the first time, you'll feel like you're in a car that looks like it should be in a movie. If that excites you, then it's time to schedule a test drive at Norm Reeves Cerritos INFINITI near Mission Viejo, Orange County, and Cerritos, CA.
Call us—or go to our website to schedule an appointment today!
*2021 EPA Fuel Economy Estimate 20 MPG [City] and 36 MPG [Highway]. Actual mileage may vary with driving conditions – use for comparison only.