Best Oil Types For My INFINITI QX60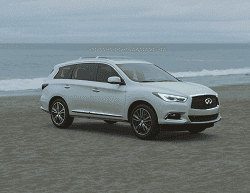 Not all motor oils are created equal. In fact, there are dozens of motor oil brands, viscosities, grades, and qualities to choose from. So how do you know which motor oil is right for your INFINITI QX60?
In this article below, Norm Reeves Cerritos INFINITI goes over the best oil types for INFINITI QX60 crossovers. That way QX60 drivers throughout Long Beach, Torrance, and Fullerton select the right motor oil for their engine.
Oil Recommendations From INFINITI
When selecting motor oil, be sure to choose one that meets the American Petroleum Institute (API) certification or International Lubricant Standard and Approval Committee (ILSAC) certification. It should also meet the standards of SAE viscosity. Oils that meet these qualifications will have a certification mark on their labels.
For gasoline engines manufactured from 2010 forward, like the QX60s, you should always use an API SN oil with Resource Conserving. These oils are designed to improve protection from high-temperature deposits for pistons and feature more stringent sludge control and seal compatibility measures to protect your engine, improve fuel economy, and enhance emission control systems.
INFINITI also recommends using energy conserving oil to improve your QX60's fuel economy. These oils will also have a certification on the label.
Synthetic vs. Conventional Oil for QX60
To get the most out of your QX60's performance, use synthetic oil over conventional blends. Synthetic oil provides more protection and offers a stronger performance, allowing you to enjoy your QX60's strong and smooth power.
Conventional oils are fine for some vehicles, but synthetic types will provide more engine protection, keep it cleaner, and flow better in cold temperatures.
Recommended Oil Brands For Your INFINITI Qx60
There are several oil brands available on the market. However, for your INFINITI QX60, we recommend using Shell, Castrol, or Mobile motor oil. Each is a reliable, quality oil that you can feel confident putting in your vehicle.
What Oil Grade Should I Use
Selecting the right oil grade for your INFINITI QX60 depends largely on the climate where you typically drive. Motor oil's performance changes with the temperature, so it's important to choose one that corresponds with the season.
Here are the oil grades we recommend for the INFINITI QX60 based on temperature:
All-Season Motor Oil (-13°F to 77°F): 5W-50, 10W-60
Summer (32°F to 95°F): 15W-50, 15W-60
Winter (-31°F to 0°F): 0W-50, 0W-60
INFINITI Qx60 Motor Oil Changes
Selecting the right motor oil for your INFINITI QX60 can be tricky, especially with so many options on the market to choose from. So if you need help finding motor oil that meets these specifications, you can turn to Norm Reeves Cerritos INFINITI for help.
When you need a fresh batch of oil, stop by the service department at Norm Reeves Cerritos INFINITI, conveniently located at 18818 Studebaker Road. We can change your oil for you or at least help you select the right type for your QX60. Our certified technicians have years of expertise and will make sure that your engine has the right oil for your driving needs.
You can schedule an appointment with us online or by calling our service center at (562) 469-5915.